Kaikoura Tours
Enjoy sightseeing tours and activities in Kaikoura, New Zealand. Book tickets online or call tus for assistance with reservations, group bookings and private charter transportation services.
Please Note: The New Zealand government has outlined a five-step reopening plan. The border is now open to New Zealand citizens coming from anywhere in the world. By May 1, fully vaccinated people from Australia or visa waiver countries - including the United Kingdom, the United States and many European nations -- will be able to enter New Zealand and self-test on arrival. By October, all visa categories will reopen, including visitor visas.
Recommended Tours and Activities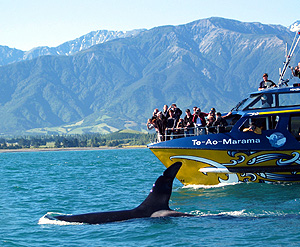 Kaikoura
approximately 3.5 hours
Come to picturesque Kaikoura and experience a fantastic whale watching adventure! While Giant Sperm Whales are the stars of the show and year-round residents, you will also encounter many other types of marine life. Every tour is a unique and exciting venture!
From: $100.82
US Dollars
---